Description
Want a keyboard pad that keeps you working efficiently?
Get our Anti-slip Keyboard Pad! With clear shortcut key patterns, a super large size of 900*400 mm/800*300mm and an anti-slip bottom, you'll be typing faster and more comfortably than ever before!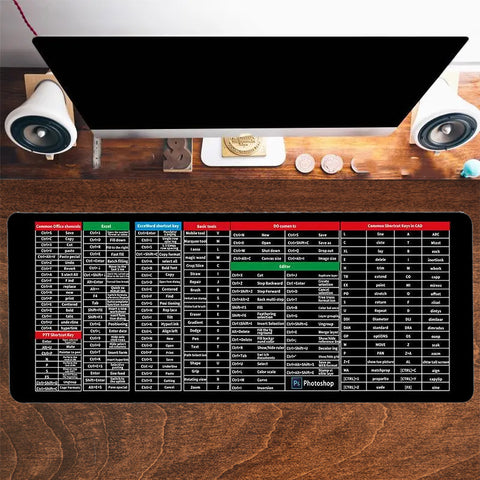 FEATURES
Clear Shortcut Key Patterns: This Super Large Anti-slip Keyboard Pad is designed with an office software shortcut key pattern that is easy to read and use. This pattern allows users to quickly and easily access frequently used commands and functions. The shortcut key pattern also helps to reduce the time spent searching for the right key and makes using the keyboard pad more efficient.

Super Large Size: This Anti-slip Keyboard Pad has a generous size of 900*400mm / 800*300mm, making it ideal for any size desk. This size allows users to easily move the keyboard pad around the desk, and it provides ample space for typing and gaming. The large size also ensures that the shortcut key pattern is easy to read and use.

Anti-Slip Bottom: ThisAnti-slip Keyboard Pad has a heavy-duty rubber base that prevents it from sliding around the desk. This bottom also helps to keep the keyboard pad in place while typing or gaming, ensuring that users can focus on their tasks without worrying about the keyboard pad slipping out of place.

Natural Rubber Material: This Large Anti-slip Keyboard Pad is made from natural rubber material that is environmentally friendly and odorless. This material is also breathable, waterproof, and can be washed without fading. The high-precision printing process ensures that the shortcut key pattern is clear and visible, making it easier to use.

Durable Stitched Edges: This Anti-slip Keyboard Pad features durable stitched edges that prevent it from fraying and degumming. This feature also enhances the aesthetic of the keyboard pad and increases its lifespan. The stitched edges also provide extra protection against wear and tear, ensuring that the keyboard pad will last for years to come.
SPECIFICATIONS
Type: Pad

Color: Black

Material: rubber

Thickness: 3mm

Size: 800*300mm / 900*400mm
PACKAGE
1 * Anti-slip Keyboard Pad
You'll Also Love These