2023 Advance Portable Electric Shaver
Description
Introducing the ultimate in convenience and portability!

The portable electric razor with a compact and practical design. This razor is perfect for people on the go, as it can be easily stowed on a bag or belt for easy access. Its compact and lightweight design makes it perfect for travel or for those with an active lifestyle.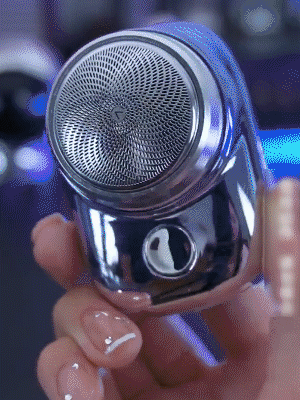 The electric razor is equipped with a powerful motor and precision blades that provide a smooth and close shave. The precision blades are designed to adapt to the contours of your face, ensuring a comfortable and efficient shave every time. The shaver also has multiple speed settings to suit your personal needs.
The compact and portable design not only makes it easy to carry but also keeps the shaver clean and hygienic. It can be used to hang the razor in a dry and ventilated place after use, preventing it from becoming damp and reducing the risk of bacterial growth.
Step up your shaving game with this handy and stylish portable electric shaver. Its design, precision blades, and powerful motor make it the ideal choice for anyone looking for a reliable and portable shaving solution. Order yours today and experience the convenience of a portable electric shaver for yourself.

Features :
Better Shave - 6-edged stainless steel turbo blade, specializing in tough beard, 0.1mm thick stainless steel sheet, double honeycomb knife net, increasing shaving volume, smoothing surface the floating arc smooth and adheres to the skin, removing hair from the root.
Precise and painless shaving - The motor speed is 7200 rpm, which is twice that of ordinary electric shavers, and the shave is precise and safe. Even under low power, the motor speed can be stabilized, effectively preventing the beard from getting stuck in the razor, and achieving a painless shave.
Wide range of applications - Shaving, hair removal for legs, armpits, chest, body hair, etc. can be done in one machine, only one mini portable electric razor is needed at home to take care of men and women.
Pocket Razor - Small in size, you can easily slip it into your jeans pocket and take it. Durable plastic plating body, durable and comfortable non-slip. Suitable for air travel, business travel, office, car, on-the-go, camping, and more.
Fast charging - 

30 minutes of fast charging, 60 days of extended use.

 Through the USB interface, charging is convenient, and computers, notebooks, mobile power, etc. can be loaded.
Package Includes:
1* Portable Electric Shaver

1* USB Cable

1* Cleaning brush

1* User Manual

Package Box